Collection: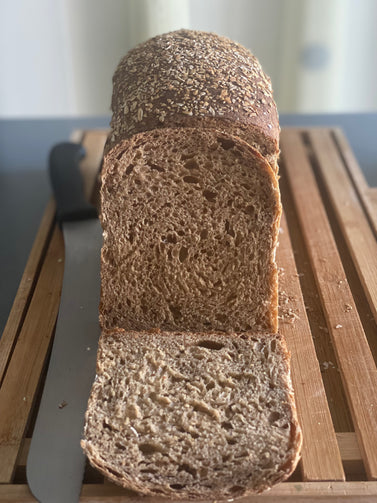 Collection:
Carob soft loaf (new favorite!)
Carob soft loaf (new favorite!)
Regular price

Sale price

€8,00
Tax included.
This is a bread I ve been obsessing with lately! I'm not a huge carob fan but this is truly beautiful. I have tested this recipe so many times to get it where I want it and I'm in love with it!! Carob flavor isn't overly strong and it has a perfect balance! Fresh local olive oil is used - instead of butter - and a tiny bit of brown sugar and carob syrup for the hint of brioche sweetness - it is not a sweet bread though. I know that many of you are not carob enthusiasts but do try this one and let me know what you think.
This is a soft squishy bread which can be used for toasts and sandwiches but also to dip in your ospria 😊
Ingredients: organic wheat and semolina, carob flour & syrup, brown sugar, egg, local olive oil, akamas salt, sourdough. 

No yeast, long fermentation